The $AUD10,000 Universe Challenge!
Click above image to download A5 PDF flyer.
It is easy to be perplexed by the universal
appearances, those of 'Big Bangs, Rocks from
Nothing, and Orchestras of Psyche'! How can
primal rocks, arising from Nothing, create
thousands of human languages, and sustain
the lives of billions of people? How do we
explain complex consciousness,
and 'thinking rocks'?
Perhaps we will need to reconsider our initial
premise, that our universe arose from Nothing?
If our universe arose within a conscious Multi-Verse,
then surely this 'Hidden Splendour', would solve the
problems, surrounding the ascent of consciousness?
Perhaps consciousness then is more than a peculiar
'hallucination', perhaps our spinal columns are the
Holy Grails of our myths, when they are alight,
with the hidden Powers of Eternal Awareness?
Let us imagine then that we are punters at
a cosmic racetrack. Would we place our
bets upon the horse named, 'Rocks from
Nothing', or the horse named, 'The Hidden
Splendour'? Welcome to the $AUD10,000
Universe Challenge, between the ancient
mystics, and the greatest minds, from
modern science!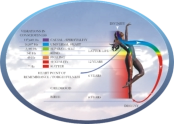 The Challenge Introduction JPEG
The AUD10,000 Universe
Challenge! PDF
The Challenge Introduction
Extended version A4 PDF
'The Frog Particle!'
Scientific Quests A4 PDF
A Short Challenge Introduction,
with Links PDF

Universe Challenge
Part 1 Video
Universe Challenge
Part 2 Video
Feel free to contact this website with your
thoughts, or to attempt the Challenge.
The best submissions will be displayed
to promote debate, and we will announce,
when the 'winning' cheque has been sent!
We also welcome donations
to help promote the
Universe Challenge!

The $AUD10,000 Universe Challenge!